We would like to thank everyone who attended the Keeping Efficiency at the Forefront event. We sincerely hope that you found it valuable.
Please join us on February 14th for a presentation from Avista Utilities on the importance of keeping efficiency at the forefront whether you're in preliminary design, design or active construction.
Whether your clients are commercial or residential owners, Efficiency Matters. Whether your project is new construction or tenant improvements, Efficiency Matters.
Avista's team of energy efficiency professionals is partnering with owners, architects, engineers and contractors to help them incorporate efficiencies into designs throughout the project, helping the owner exceed their energy goals. Avista hopes to help hospitals, universities, manufacturers, retail development, multi-family housing and agricultural businesses incorporate energy efficiencies from start to finish. This presentation will include a summary of how Avista is working with design and construction professionals, examples of recent owners benefitting from their new efficiency program, and an overview of energy codes, the Energy Use Index and Efficient Fuel Choice programs. Avista serves Eastern Washington and North Idaho with electricity and natural gas, and portions of Southern and Eastern Oregon with natural gas.
Our Presenters
Dan Johnson, PE, Director, Energy Efficiency -- Dan leads the Energy Efficiency group for conservation in Washington, Idaho, and Oregon within the Avista service territory. Dan also leads the Gas Growth Strategy effort for our residential and commercial customers. Dan is a licensed engineer and joined Avista to manage the Smartgrid Demonstration project and has had rolls in the generation team before joining the Energy Efficiency group in 2014. Prior to Avista, Dan was the Director of Engineering & Planning for the Spokane International Airport and a Project Engineer for Pacific Gas Transmission Company. Currently, Dan is a Board Member of the Northwest Energy Efficiency Alliance and the Northwest Gas Association.
Tom Lienhard, PE, CMVP, CEM, Chief Energy Efficiency Engineer –

As the Chief Energy Efficiency Engineer for Avista Utilities, Tom is responsible for managing customer energy efficiency projects and supervises a team of energy efficiency engineers. Before coming to Avista in 1996, Tom directed facilities and project management in the healthcare industry. Working as an administrator in the management of large utility accounts for ten years has given Tom a good knowledge of what Avista can do to assist its customers. Tom's technical background as a mechanical engineer, combined with his personal experience as a facilities manager, allows for superior management of customer needs in metering, distributed generation and energy utilization. He is certified in commercial (CEA) and residential (BPI) energy auditing and the use of infrared thermography. Tom's hobbies include music performance, photography, and talking about his granddaughter. His favorite color is blue and his favorite movies are Princess Bride, Overboard, and Galaxy Quest.

Bryce Eschenbacher, PE, CEM, CMVP, BESA, Energy Solutions Engineer – Bryce is one of the energy efficiency engineers at Avista, focusing commercial retrofit and new construction projects. Bryce started his career with L&S Engineering where he worked on designing HVAC systems for small commercial and educational facilities. His work building energy models to size equipment and evaluate energy saving measures for LEED buildings gave Bryce the skills necessary to move into a full time position in energy efficiency at Avista. His work at Avista includes; HVAC, controls, lighting, and shell improvements as well as any other project that could potentially save energy at a customer's facility. In addition he is currently managing several pilots for commercial and residential customers. One of the commercial pilots is looking is trying to change the way new buildings are designed by challenging owners and design teams to reduce a building's EUI substantially below the accepted DOE baseline. Bryce was recently selected as Avista's new voting member of the Northwest's Regional Technical Forum. He also lends his time to Avista's customer outreach programs by staffing energy fairs and building/modifying energy fair displays. When he is not helping customers reduce their energy bills you can find him at home with; his wife, four children, and menagerie of livestock or out in his wood shop. Bryce recently completed his biggest project to date, a 400 square foot timber framed pavilion. If you ask him about it he will talk until you politely figure out how to escape.
Levi Westra, PE, CMVP, CEM, Energy Efficiency Engineer – As an Industrial Efficiency Engineer for Avista Utilities, Levi is responsible for managing large customer energy efficiency projects in the manufacturing, pulp, paper and lumber products arena. Before coming to Avista in 2011, Levi performed research and development at Isothermal Systems Research, a company providing chip level cooling technology in the computer field. Working as a researcher has given Levi good knowledge in helping Avista pilot measures and programs and evaluating those pilots through extensive data manipulation. Levi's technical background as a mechanical engineer, combined with his personal experience in a startup technology field, allows for superior management of customer needs in distributed generation, advanced lighting, and energy utilization. He has been certified in energy management (CEM) and in evaluation, measurement, and verification (CMVP). He designed and built the energy display for Avista at the Spokane Mobius Children's museum as well as an interactive diorama for the Transitions Programs for Women in Spokane. Levi is a board member of Spokane's Big Brothers and Sisters Program and volunteers along with his wife Jen for that non-profit.
Meeting Sponsor - Rocky Mountain Compost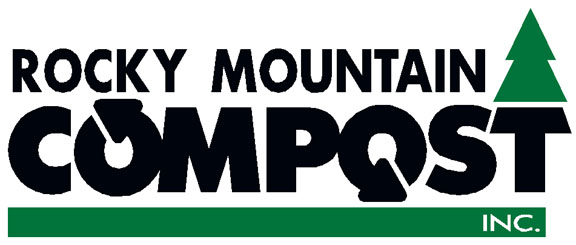 Rocky Mountain Compost (RMC) is a landscape supply company headquartered in Billings, Montana with a transfer yard in St. Regis, Montana. In addition to making quality compost, potting soils, and colored mulch, RMC also manufactures Compost Filter Sock (CFS), which is an erosion control tool directly replacing straw waddle and silt fencing. It is as close to "set it and forget it" as you can get. It is the better, cheaper and faster solution. RMC is new to the area and plans to open manufacturing for their compost filter sock. They are working with the Idaho Department of Environmental Quality in the Silver Valley to stop burning logging slash and use that material as a feed stock to their Compost Filter Sock. If you have any questions on how a simple change in the call outs for your erosion BMP's can impact so many areas of your life, please reach out to: Vermont Trotter, Rocky Mountain Compost, 208-667-4164.